Pastor Tim came to Calvary as the Assistant Pastor in May 2018, and then in February of 2020 was voted in to become the new Lead Pastor. God led him and his wife Christina together while attending Maranatha Baptist University. They both graduated in 2017 and were married early in 2018. Pastor Tim later finished his Master of Divinity in 2023. He desires to see Calvary strengthened by the preaching of God's Word and the ministry of the people in pointing others to Christ.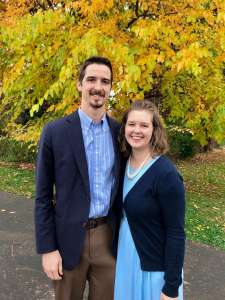 Associate Pastor – Billy Peters
Pastor Billy was voted to be the Associate Pastor of Calvary in the summer of 2020. Billy and Grace met at the Wilds Christian Camp in North Carolina in 2009, and later attended college together at Maranatha Baptist University, from where they both graduated. They were married in 2013. Billy graduated with his degree in pastoral studies and a minor in classical guitar arranging. Today, Pastor Billy and Grace are enjoying their four beautiful children. Pastor Billy also earned his Master of Divinity degree from Maranatha Baptist Seminary. He desires to see the church grow. This happens as disciples of Jesus further equip new disciples of Jesus to mature in the local church.​